Poker Hand Rank Card
Here is a Microsoft Word poker hand rank card that you can print on your laser or ink-jet printer. It is pocket-size and is a little larger than a business card. It is similar to the hand rank cards that you get with a new deck of playing cards. This card is customizable and you can choose what you would like printed on either side of your hand rank card. Some of your players will want a hand rank on one side and chip colors on the other side. More experienced players will not want a hand rank, but might want a blinds schedule on one side and the date of your next tournament on the other side. Other players might want a blinds schedule on one side and chip colors on the other side. Make several different versions available near the entrance so that players can grab one as they arrive.
The hand rank cards are particularly useful for large tournaments spread out over numerous tables. Players might be constantly asking what the next blinds level is or what the chip colors are worth. To avoid this, provide the players with these pocket-size cards. Make sure you give a card with a blinds schedule to every dealer.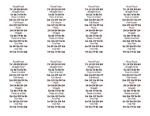 Eight hand rank cards can be printed on each piece of 8.5 x 11 inch piece of paper. Print one side of the paper and then turn the paper upside down and print the other side of the same piece of paper, using different information. You can mix and match what you want printed on each card. Please visit my Poker Rule Book page for instructions on how to print on both sides of a piece of paper using your computer printer. After you have printed both sides, use scissors or a paper-cutter to separate the page into eight cards.
Here are the different Microsoft Word doc files that are available for download (An Adobe pdf file is available below). The cards are shown at their actual size. See below for information on how to alter these files.
Click on an image to download the MS Word doc file ...
How to Alter These MS Word Files
These documents are supplied in Microsoft Word 2003 format. You can alter them as you wish. I will not alter them for you! Anyone who knows the basics of MS Word will be able to change the text or colors or resize the various charts. Basically, I have given you a template that you can now alter to produce cards exactly as you want. There are no macros in these documents.
Altering the text should be no problem, simply delete my text and replace it with whatever you want. Changing the colors is a bit more complicated ...
How to Change a Color
Select the cell, including the end-of-cell mark
Click on | Table | Properties | and make sure the Tables tab is selected
Click on Borders and Shading... and make sure the Shading tab is selected
Choose your color
Make sure that Apply to: is set to 'cell'
Adobe pdf Version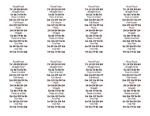 For those of you who do not own MS Word, here is an Adobe pdf version of the Poker Hand Rank. This file will allow you to print the hand ranks on one side of an 8.5 x 11 inch piece of paper. You can then create your own reverse side using whatever software you have available. It is not possible to alter this file.
[Download]