Poker Room Decor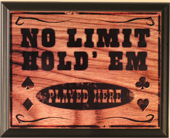 Here are some ideas to decorate your poker room. There are many different types of poker home furnishings made specifically for poker rooms. Poker posters and wall hangings, poker signs, and poker artwork is available at a decent price. Poker decorations are something that you might use for years and then pass on to your children so you should probably buy good quality products that will last for decades. Remember, poker artwork is timeless, "Dogs Playing Poker" is as much a masterpiece today as it was 75 years ago!
Poker Room Furnishings
Each player sits in a chair, the chair must be comfortable, preferably with a padded seat.
Many poker players are heavy-weights, the chairs must be solid.
Try to allot at least 24 inches of table frontage for each player. An 8 foot table could seat 4 players on the long (8') side. Adding a couple inches to the 24" frontage makes a big difference in player comfort, it's the difference between feeling cramped and not feeling cramped.
The seated players arms lean on a poker table, or preferably padded table rail, all night long. Try to make that as comfortable as possible.
Over head lighting is needed to illuminate the board cards. Side lighting is needed to assist in seeing the down cards. Hats should be encouraged to help with the abundance of light.
Try to keep the circulating by placing a fan in an out of the way place where it will not affect the flight of the playing cards.
A fridge or picnic (beer) cooler to keep the beer and soda pop cold.
A coffee-maker.
A telephone and washroom that is easily accessible.
A wall clock (Anyone know what time it is?).
A blinds timer or stopwatch.
Baskets or trays to move players' chips from one table to another.
Bowls for peanuts & pretzels.
Indoor and/or outdoor ashtrays. Matches or lighters.
Poker Room Luxury Furnishings
A dedicated blinds timer (Poker Genie, Tournament Director, Dr. Neau, etc.)
Plastic playing cards.
Cut cards.
A fancy dealer button.
A wet bar.
A Kegerator!
A urinal (see above).
A big screen television to silently watch sports while playing.
A stereo.
Neon wall hangings, sports posters, works of fine art (Dogs Playing Poker).
Crystal glassware.
A box of Cohiba cigars.
---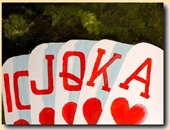 Dogs Playing Poker
Poker Posters, Signs, Wall Hangings, and Art
BarewallsNEW
e Poker Deals
FCI Poker
High Hand Designs1010% off: HPT10
LuckyDog Poker Art
Michael Godard
Poker Discount Dot Net5% off: HPTPD5%
Poker Tables Depot
Quality Competition
White Machine
Poker Clocks
Poker Chairs
Costco has Samsonite padded folding chairs for about $17
916 Poker Depot
Rye Park
Sam's (nice 4-pack of padded chairs for $70)
School Outfitters Steel Plastic
Poker Bar Stools
Overhead Light Fixtures
Beverage Carts
K.P. Gaming Supplies
Rye Park
School Outfitters
Texas Poker Supply10% off: TPSHPT
Drink Coasters
Cara Gail's poker chip coasters
Pub Sign Shop
Poker Movies
Poker Jewelry
See my Poker Clothing & Apparel page
Poker Candy & Chocolate
---
Please Contact Me to add a link to this page.