Poker Clothing & Poker Apparel

Here is a list of poker clothing suppliers, poker jewelry suppliers, and poker sunglasses suppliers.

Poker Clothing
Poker Jewelry
Achieva
Iconic Poker Supplies Australia
Jewelry4Gamblers
PokerBling
ProPokerGear
Poker Sunglasses
Please Contact Me to add your link to this page.
Poker Clothing Reviews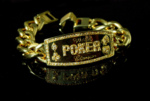 These are fantastic looking poker bracelets that resemble the WSOP bracelets. 50ml Gold plated and silver (rhodium) plated bracelets are available. They come in both a link style and a mesh style of wrist band. The faceplate has "World POKER Champion" and the four card suits printed on it. The entire faceplate is bordered by "Swavorkian crystals" and there are also some crystals in the center of the card suits. Future versions of the bracelet will be available without the word 'World'.
The individual links are of good quality - there are no gaps where the two ends of each link are joined together. This is not one of those cheap bracelets where you can bend the links or pull them apart. There is a hefty weight and feel to the bracelet. There is a locking clasp that appears strong enough to stay secured.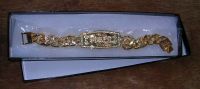 The bracelet is 8.5 inches long, the width of the face plate is 2 inches , the height of the face plate is 3/4 of an inch, and it weighs 76 grams. The bracelet comes in the standard cardboard jewelry box, just like the box that a diamond bracelet for your wife would come in ... but let's not go overboard here!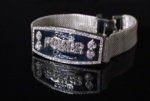 I really like these ePokerDeals poker bracelets. They are a perfect cheaper version of the WSOP bracelets. It's not like they look exactly alike, or cost the same, but the ePokerDeals bracelets definitely give that WSOP feeling. The cost is $29.99 and shipping within the USA or Canada is under $2. December 2006

Playing Card Baseball Caps from Trident Cards

These are official playing card logo baseball caps available from Trident Cards. There is a beige Copag cap, a very dark blue Dal Negro cap, and black Modiano and NTP caps.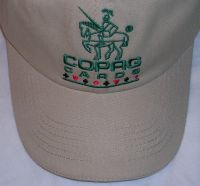 The hats are very high quality. The logo is embroidered into the hat and the stitching is very tight - you cannot move any of the stitches around with your finger and there are no loose ends.
There are six sections of good quality cloth. There are six vents holes in the top of the cap and a button on the crown. The cloth on the sweatband and underside sections of the cap is the same color as the rest of the hat. The bill is three-layers, has six rows of stitching, and is pre-rounded. All four caps have beige under the bill.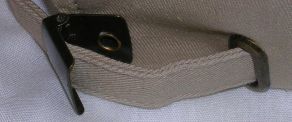 The caps are one-size-fits-all and feature an adjustable cloth strap with a metal clasp and tuck-in. These are the best type of fasteners and once again, everything is solid and well constructed.
The caps are made in Vietnam and cost $12. They are very high quality (good embroidery, good cloth, good construction) at a fair price. Nov 2006