How To Build a Kegerator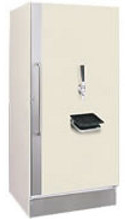 No poker room or home bar is complete without a kegerator! What is a kegerator? It is a refrigerator or freezer that has been modified to hold a keg of beer. There is a tap drilled into the door of the fridge so you can walk up to your kegerator, place your glass under the tap, and let the cold beer flow! And of course, any experienced poker host knows that the more beer your players drink ... the more money you win!
Draft Beer Saves The Planet
Not only does drinking draft beer save you money to spend elsewhere; it also shows you care about the environment. Keeping bottles and cans out of the landfill and recycling centers saves resources. Be kind to our planet and drink from reusable cups. It's easy, you have plenty of glasses around, wash them and reuse them. Every little effort for the environment helps. www.kegbooty.com
It's quite easy to build a kegerator, especially if you have already proven yourself by building your own poker table! Old fridges and chest freezers are perfect to convert to a kegerator but you can buy a new fridge or freezer for under $200 at places such as Home Depot, Sears, Sam's or Costco. You can buy the additional kegerator hardware in pre-bundled kits or you can search locally for the individual parts. Check out restaurant supply stores for tap equipment and check out welding supply shops for tanks of CO2.
You can construct a kegerator in less than an hour. The beer is driven through a line from the keg inside the fridge to a CO2 tap on the outside of the fridge. You drill a hole through the outside of a fridge or freezer, insert a metal shank, and connect a CO2 tap. Connect a hose from the tap to the keg of beer (or soda pop) and another hose from from the keg to a tank of CO2. That's about it!
How To Build a Kegerator
Keg Booty kegerator site
Lots of very good information. They also sell kits to help you convert a fridge to a kegerator.

Micro Matic
An instructions manual on how to build a kegerator. The manual is a good 'quick start' and also shows you what hardware parts are needed.
How to build a kegerator video
Micro Matic Kegerator pdf File
Ron's keg fridge
Very nice site with good instructions and photos.
Kegbot.org
A circuit board to control and monitor your kegerator. You can track how much beer is left, how much each person drinks, rank drinkers, and other fun stuff. You can use it to monitor liquids other than beer. Detailed technical instructions, parts lists, and schematics are available. No, I'm not kidding.

Kegerators.com
Good basic instructions and lots of conversion kits and pre-made kegerators. There is also a Beer Calculator to determine how much beer you will need to serve your guests.
More Kegerators
Beverage Factory A very good summary
Jeff Stanley's Draught Site
Kegerator
Kegman Keg Beer FAQ
Rayfes Kegerator
Squidoo
Sock Monkeys and Beer 1 & 2
Wired How-To-Wiki
Buy a Kegerator
Beverage Factory
Beer Cooler.com
Craigerator
Keg-Meter
Keg Works
Micro Matic
More Beer Good info!
Real Beer
Sam's Club
Please Contact Me to add a kegerator to this page.