Poker Playing Cards
Good playing cards make a huge difference in any poker game. There are two basic types of playing cards - plastic and plastic coated (paper) with the main difference being the quality and durability of the cards. Plastic coated cards are paper cards coated in plastic and will not last as long as a 100% plastic card. You can expect plastic coated cards to be good for a tournament or two and you can expect plastic cards to be good for a year or two! You should consider using two decks of cards, of different colors, at each table. This will allow one player to shuffle one deck while the other deck is in use. See my Playing Card Images page for scanned images of playing cards. See my Playing Cards Reviews page for my opinions on the most popular playing cards. Visit my Playing Cards Damage Tests page to see which cards were the sturdiest.
Are you looking for high quality customized playing cards to play poker? Look no further than CustomizedPlayingCards.com! Bridge size or poker size, paper or plastic, no setup fees and no fees for a rush order. You can even match your new customized playing cards to your existing customized set of poker chips!
Paper vs. Plastic Playing Cards
The type of playing cards you use will have a great impact on your poker game. There's nothing worse than playing poker with bad cards on a bad playing surface. You should probably use one or two decks of plastic playing cards, rather than paper (plastic coated) cards. Plastic cards will last for months or years compared to lasting only one or two tournaments for paper cards.
Paper (coated plastic) playing cards are available from Bicycle, Bee, Tally-ho, Aviator, WPT, WSOP and various other manufacturers. They are made of paper surrounded by a plastic coating. They may be purchased for a dollar or two per deck and are also sold by the dozen. Don't open the seal of a new deck, leave it in its plastic in the middle of your poker table and let the players open the seal at the beginning of the game. It's always reassuring to know that the deck of cards is new and (hopefully) unaltered or marked.

Coated paper cards will bend and crease and rip and chip and tear. They will only be 'good' for one tournament or less. Paper cards mark easily and don't bend back into shape. They become dirty and sticky and don't slide as well as they did when they were new. They cannot be washed when they do become sticky. The colors are bright but fade as the cards wear out. If you spill a beer on a paper card, you might as well reach for a new deck. They can be easily smudged or marked with a fingernail. It is easy to crease or bend a corner.
Plastic playing cards are much more durable and long-lasting than paper cards. They will not crease, rip, or tear as easily as a coated plastic card. Plastic cards will last longer, shuffle better, and slide across the table better. You will never want to play with anything else! Plastic cards may be washed using a damp cloth when they begin to get dirty and stick together. And we all know that accidents do happen. Remember, a beer is a terrible thing to waste ... especially when spilled on your poker table and cards! Plastic cards can get wet and soiled and are easy to clean. Plastic playing cards are usually sold in sets of two decks and are available from KEM Cards, Royal, A Plus Cards, Copag, Gemaco, Dal Negro and others. Plastic cards cost anywhere from about $4 per deck of Royal cards to $8 per deck of Copag cards and about $12 per deck of Gemaco, A+ or KEM cards.

Plastic cards are easier to handle and shuffle. They bend back into shape better than a paper card and are much harder to mark or smudge than a paper card. They are more expensive than paper cards but are worth the extra money in the long run. Experienced poker players have a tendency to leave their hole cards on the table and simply bend a portion of the card up to view it - this has a tendency to warp or bow the cards over time. Corners can become curved and cards can appear bowed at the middle. Plastic cards help to minimize this nuisance because they 'remember' their shape better than paper cards. Placing a cut card and a weight on top of your unused cards also helps!
Plastic cards slide very easily on just about any playing surface. They feel strange to shuffle at first but once you start using them, you'll never want to go back to a paper card. Plastic cards may smell when you first open a new deck. The smell will go away with use but you may want to leave your cards spread out on a table for a few days to make the smell go away quicker.

In the long run, plastic playing cards will probably cost you less than paper playing cards. Paper cards will be good for one tournament and barely playable for the second tournament. They may get marked or soiled after only a couple hands! If you use paper cards, plan on buying them by the dozen. On the other hand, plastic playing cards will last dozens of tournaments, with a little cleaning needed now and then. When the cards get a little sticky, simply wipe them clean with a damp towel and let them dry. This will save you money in the long run.
Poker Size vs. Bridge Size Playing Cards
Playing cards are 3.5" in height. Poker (Wide) size cards are 2.5" (62mm) wide and Bridge size cards are 2.25" (57mm) wide. Most casinos and poker rooms use bridge size (yes, bridge) cards because they are easier to handle and shuffle than the larger poker size cards. People with small hands definitely prefer the smaller size of the bridge size cards but many old-timers find that they feel kinda 'light-weight' after playing with the wide size cards.
Standard, Large & Magnum Index Playing Cards



Standard, Large or Magnum Index refers to the size of the numbers and pips (suits) on the card. Large (Jumbo) index cards have larger, easier-to-read numbers and suits than Standard (Regular) index cards. Large Index cards are good to use on large oval tables because it is much easier to see the board cards (Flop, Turn and River) from the end seats. On the other hand, Large index cards are worse as hole cards (down cards) because you have to expose more of your card to see what it is.
Magnum index cards have even larger numbers and pips than Large index cards. The nifty thing about Magnum Index cards is that they have huge numbers and pips that can be seen from across the table but they also have smaller numbers and pips in the corners of the card, allowing you to simply flip up a corner of your down-card to view it.
Remember that it may be difficult for the players at the ends of the table to see the board cards (Flop, Turn, and River) especially if the overhead lighting is inadequate or the player's eyes are aged. You might consider using Large or Magnum index cards to make it easier to see the board cards, much depends on your players and your lighting. You could, alternatively, use regular index cards and ask the dealer to announce the cards as they are shown.
2 Pips vs. 4 Pips


Most playing cards used in North America have numbers and pips located on the top left and bottom right corners of the card. Some decks, mostly in Europe, have numbers and pips on all four corners of the card. These are so-called "left-handed cards" and they make it easier to bend up any corner of your down card (your face-down card on the table) to view it. Most card decks have only two pips but some manufacturers, such as Dal Negro, offer both styles.

Normal Ink vs. Security Ink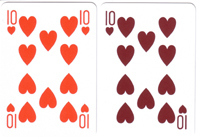 Normal Ink vs. Security Ink
Some playing cards may be ordered in normal ink or security ink. Here are scanned images of a Dal Negro normal ink Torcello card on the left and a security ink Freedom card on the right. The security ink is a blood-red color compared to the bleached color of the normal ink. The darker, richer color of the security ink is stunning but might be mistaken for black from across a poker table. Overhead lights also glare more off the darker colored security ink. Only the red ink is different, there is no difference in the color or quality of the black ink. The typeface is the same on both cards.
Playing Card Replacements & Guarantees
Most card manufacturers will replace a defective card within a certain amount of time of purchasing the deck, after that you are on your own. You can use a Joker as a replacement card but this is frowned upon by most serious players.
KEM used to offer (almost) free replacements, for up to five years, for any damaged card. This service is no longer available since the KEM Playing Card Company was sold to the U.S. Playing Card Company in 2004. Replacement KEM cards are no longer available. KEM cards were a great deal knowing that you could get replacement cards if needed, but now that replacement cards are no longer available ... $12-$15 is a lot of money to pay for a deck of cards. It probably makes more sense to buy a cheaper deck of plastic cards, such as Copag, knowing that if a card is damaged - it only costs about $8 to replace the entire deck.
Some Copag playing card dealers now offer a single-card replacement service for their customers. Make sure you inquire with your dealer as to whether they offer this service.
How to Shuffle Cards
Visit HowToShuffle.com for a summary on how to shuffle cards.
Playing Cards History & Information
The United States Playing Card Company has a Brief History of Playing Cards as does Andy's Introduction to Playing Cards and The World of Playing Cards. Here is a more in depth history of playing cards and a timeline. The International Playing-Card Society has loads of information about all aspects of playing-cards, including collecting, playing, and historical research. Go to The House of Cards to see a good selection of playing cards. Go to Gunther Anderson for a list of playing card manufacturers and publishers. The Online Guide to Traditional Games also has an excellent page on the history of playing cards, as does the Encyclopedia of Playing Cards.
How Playing Cards Are Made
Here are a couple YouTube videos about how playing cards are manufactured ...
Storage of Playing Cards
Store your cards in a consistently cool and dry environment. It is best to place a cut card and small weight on top of decks of stored playing cards, this will help prevent warping or bowing. Do not leave your playing cards in a hot car or exposed to direct sunlight.
Cleaning Plastic Playing Cards
Your cards will last longer if you keep them clean.
To wash your cards, use cold water, mild neutral soap and a soft cloth. Do not use hot water.
Clean only a few cards at a time.
Rub very lightly on both sides of the card and rinse quickly.
Dry thoroughly at once using a clean, soft cloth.
Spread your washed cards on a table and allow up to one hour on each side to dry. Avoid direct sunshine or artificial heating elements.
Occasionally wipe your plastic cards with a damp cloth and let dry thoroughly.
Never use detergent or alkaline soap.
Never wash cards in a washing machine.
Never put cards away damp, either from washing or perspiration.
Never store cards where they will be exposed to sunshine or any other source of heat.
Play on a clean felt table. Playing on poor quality or dirty surfaces will result in scratches which will allow dirt to accumulate on the cards.
Automatic Playing Card Shufflers
There are several models of automatic card shufflers available for about $15-$20. Most of these battery operated shufflers are not worth the money - they are loud, slow, jam often, sometimes eat cards, and are generally not worth the effort. All it will take is one or two ruined cards before you give up on them.
As of the summer/fall of 2008 there is a new brand of automatic playing card shuffler appearing on the market. This is a more robust version of the $15 shufflers and sells for about $500. I have not has a chance to see one of these new shufflers in action and have not heard any reliable reports on how well they operate.
Custom Playing Cards
Ad Magic
All State Cards
Customized Playing Cards
Custom Playing Cardss
Four 52
MakePlayingCards.com
Personalised Playing Cards10% off: HPT10
Playingcards.co.in
Cut Cards
See my Cut Cards page
Automatic Playing Card Shufflers
4th Street Poker
American Gaming Supply
Playing Cards Boxes
See my Playing Card Boxes page
Playing Card Forums
Make sure to check out your local dollar stores for cheap decks of Royal Playing cards - you can usually find them for about $2 per deck. Check out Sams Club, Costco, Wal-Mart, etc. for good deals on Bicycle or Bee Playing cards - you can usually buy 6 decks for about $9.
Playing Card Reviews